Considering the Edifier R980T Powered Bookshelf speaker because of its enhanced bass quality? Well, enhanced bass quality does make this forgiving Edifier bookshelf speaker a highly considerable option. However, purchasing it solely because of the enhanced bass quality is not a good choice to make.
There are a lot of factors that should also be taken into account. The Edifier R980T is a bookshelf speaker which means that you are searching for a bookshelf speaker. So, the bookshelf speaker should be purchased considering the type, appearance, sound quality, controls, and price.
Since you have been considering the Edifier R980T, it's high time to enlighten you on its strengths and weaknesses. It will help in making a rational decision.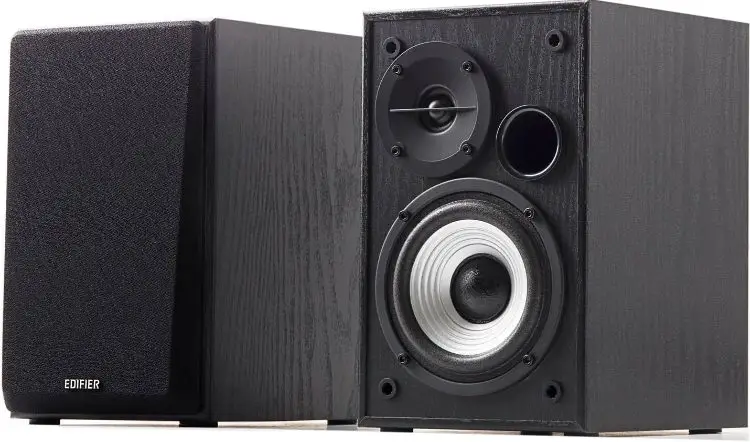 Edifier R980T Features
Here are some catchy features of R990T
Type
Whenever you are searching for a speaker for any specific purpose, the type of speaker deserves your undivided attention first. Since you are considering these speakers seriously, therefore, knowing the type is super important. As stated above, the Edifier R980T is a two-way bookshelf speaker.
Bookshelf speakers are powerful speakers made to rest on tables, shelves, or any other evaluated surface.
These speakers are designed and manufactured to put life in medium-sized spaces; especially homes.
We consider bookshelf speakers to play music loud and watch movies and our favourite shows in impressive sound. So, it is concluded that if you are requiring a speaker for your home, this is a fine option.
Appearance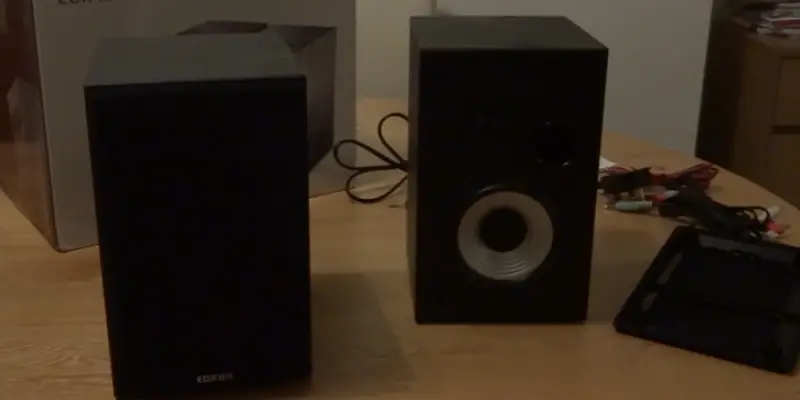 As for appearance, the first thing we judge the speakers or anything by, here's what the speaker looks like.
The Edifier R980T is a small-sized bookshelf speaker. Upon judging the speaker by its appearance, it looked pretty ordinary to me. However, the research revealed to me that the speakers are magnetically shielded and have 100% pure wooden enclosures.
It's pretty hard these days to find an economical solution with wooden enclosures and magnetic shields. So, I must say I was and still am impressed by their appearance. They can be used as conference call speakers too.
Weight, length, width, and height
Weight, length, width, and height are not any less crucial. It's important to consider weight, length, width, and height if you have space issues.
As per the manufacturer, the LxWxH is 15.5×8.9×5.5 inches. Additionally, the weight of these Edifier speakers is about 7.78 pounds. Edifier bookshelf speakers make easy connection with PC.
Sound quality
When it comes to sound quality the two way Edifier r980t delivers a decent sound full of presence and depth.
Since these speakers are an economical option, therefore expecting them to be as powerful as the expensive options would not be a fine option.
What I have noticed using the Edifier R980T speaker for about a month is that the mids are clean, the bass is tight, and the highs are just as crisp as the speakers should be. The manufacturer claims to produce 21 watts of sound and upon using these speakers I have found the claim true.
What is more promising about these bookshelf speakers is that they come with volume and bass knobs.
You are given full control to adjust the volume and bass to adjust the sound quality according to your requirements.
The downside of this Edifier R980T that no one will tell is that it has no mid-range drivers. Therefore, you would struggle with reproducing accurate mids.
Controller type
The controller type of this economical yet powerful speaker happens to be corded electric.
By the term corded electric I mean, the speakers have an electric cord. It is not a battery-operated version, to make it play music louder it has to be connected to a reliable power source first.
Warranty
These Edifier speakers are backed by a 2 years warranty. This is also amazing as most bookshelf speakers being sold at the more or less same price either have one year or no warranty.
Price
These Edifier speakers were listed to be $89.99. However, the manufacturer has recently put them on 17% off, so currently they are available to be taken home at $74.99.
As you can see, if we judge these bookshelf speakers by their price this is a pretty economical deal. Moreover, the seller has additional offers for potential customers as well. If you are planning to hit the "place an order" button, go check the additional offers first.