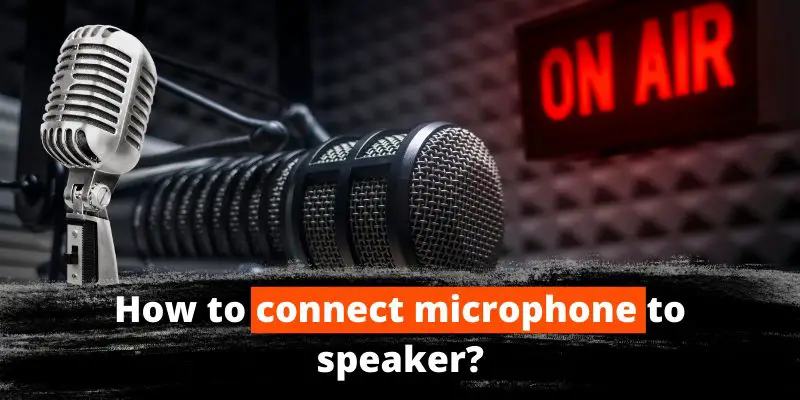 Do you want o connect your microphone directly to the speakers? Do you want your vocals and speech to be loud? Well, you can do it by connecting your microphone to the speakers.
Do you wonder if you can connect your microphone to your speaker? There are different conditions for this kind of connection.  A powered speaker is required for this purpose. Not only a microphone and powered speaker, an amplifier is also required.
---
How to Hook a Microphone to a Speaker?
The first thing to remember, to connect a microphone to a speaker physically, we must recognize the speaker input connector and then use the suitable cable adapters to deliver the microphone output signal to the speaker input. Consider that, without amplification, a microphone level signal is far too weak to operate a loudspeaker.
Procedure to Connect a Microphone to Speaker
It would have been impossible few decades ago to connect a microphone directly to a speaker. However, many powered speakers now include a microphone interface. Typically, this microphone interface is a 6.5 or 3.5 mm. On the negative side, the difficulty is to find a microphone that is compatible with these interfaces. The following are basic instructions for connecting your microphone to a speaker:
The cable should be inserted into the receiver's output hole.
Then connect the other end to the audio port on the Speaker.
Following that, get the power cord and connect it to the wireless receiver.
Similarly, connect the other end to the power source.
Reinstall the microphone's battery.
Activate the receiver's power supply. Similarly, turn on the power of wireless receiver.
Then, turn the switch ON and confirm that the status indicates it is connected. You can alter the frequency of the microphone and its associated response frequency.
---
Connect Microphone to Speaker Directly
Significantly, some powered loudspeakers will have microphone inputs, so you can use them when you are producing any sound. As long as the speaker has an internal amplifier, you can connect a microphone to it and have it boost the microphone level signal to speaker level.
All the microphone inputs are commonly XLR. They also have microphone inputs on loudspeakers, so that's the same In other words, when we use a high-quality microphone with an XLR output, we don't need to buy a lot of cables to connect the microphone to the speaker.
This is by far the simplest method of connecting a microphone to a speaker, although it is not always practical. Sometimes it does not work for the following reasons:
Passive loudspeakers: Because they lack amplifiers, passive loudspeakers are unable to apply any boost to the microphone level signal. The signal from a microphone is far too weak to power a speaker.
Active microphones: In order to function, active microphones require some form of power, usually DC bias or phantom power. Some active loudspeakers include phantom power, which allows active microphones to work well even when they are physically connected. Many loudspeakers, however, do not have this choice.
---
How to Connect a Microphone to a Bluetooth Speaker
Bluetooth is the best way to connect wireless microphones to speakers. For this purpose, you must have a Bluetooth speaker with a functional Bluetooth microphone.
First of all, make sure that your speaker is on Bluetooth mode. It will show up in a blue light.
Turn ON the Bluetooth of your microphone.
Make sure that both devices are within the range of connection.
Connect your wireless microphones to Bluetooth speakers.
If your devices are not supporting Bluetooth, you can use a Bluetooth transmitter for this purpose.