Do you want to turn your Samsung LED TV series 6 into a home theater? Do you want to boost up sound of your TV? Do you want the audio output of your Samsung LED TV series 6 to be as high as its screen display? For that purpose, you need to connect external speakers to Samsung LED TV series 6. As an illustration, the most significant aspects you would always want to consider when selecting a suitable television are the screen size, durability, display and sound quality and connectivity with bluetooth speakers.
First thing to remember, Samsung's smart televisions offer the most advanced television features available. They are inventors who are revolutionizing television technology. With cutting-edge design, it's a smart investment in modern entertainment. Notably, it has a great audio output, if you are an audiophile, attaching external speaker to your Samsung LED TV series 6 will allow you to enjoy increased volume and sound quality.
How to Connect Samsung TV to External Speakers?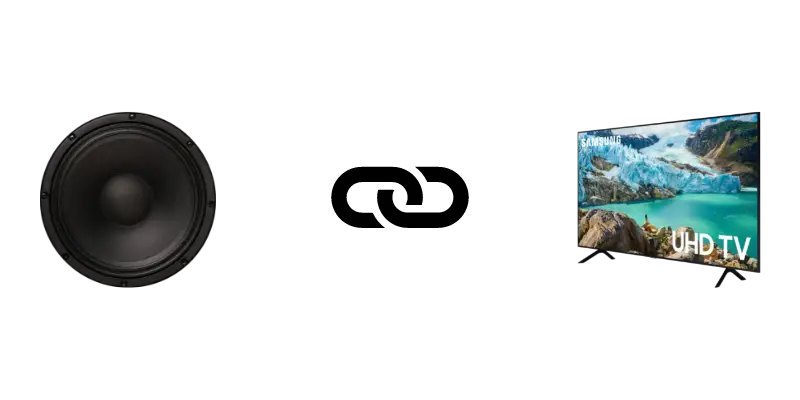 There are different methods available for connecting external speakers to samsung smart TV series 6. We will try to cover them all.
---
Method 1: RCA Connection
This is undoubtedly the simplest and most obvious way to enhance your television audio experience especially when you are connecting samsung TV to speakers. With this intention, you will only need to connect the analogue stereo outputs of your Samsung smart TV, which are commonly referred to as RCA outputs, to an external audio system.
Step 1
Connect the mini-stereo plug (3.5mm) to the audio output of your television using the analogue stereo cables at your disposal.
Step 2
Subsequently, connect the same RCA plugs to the audio in ports on your external speakers.
Step 3
After that, power on your external speakers and follow the on-screen instructions.
Step 4
Following that, select the input on your home theatre system through which you will hear the sound.
It is important to realize, however, that the majority of current television sets, including Samsung models, do not necessarily include 3.5mm or RCA analogue inputs. Therefore, if this is the situation with your television, do not stress; simply continue and implement the next option we will present you with.
---
Method 2: Digital Optical Connection
The digital optical connection is one sort of connection that is appropriate for audio. For those unfamiliar, a digital optical connection is simply a physical connection that utilises fibre optics (light) to send audio data between a compatible equipment and a compatible playback device via specially formulated connectors and cable.
Step 1
Assemble your digital optical cable.
Step 2
Connect the television's digital audio output to the speaker's digital audio input.
Step 3
Switch on the speaker and use its remote to configure the HTS for the optical cable input.
---
Method 3: The ARC – HDMI Connection
This is an additional excellent method of connecting your Samsung television to external speakers. To connect your Samsung TV to an ARC-enabled external speakers successfully, you must first need an HDMI 1.4 cable or above. Additionally, you may need to alter your speakers settings to enable the HDMI-ARC controls. To ensure that your Samsung television's HDMI-ARC settings are right, you need enable HDMI-CEC. It's worth noting that the HDMI-CEC protocol is referred to as Anynet+ on Samsung televisions.
Step 1
Open settings by pressing the HOME button on the TV's remote control.
Step 2
Select GENERAL MENU, followed by EXTERNAL DEVICE MANAGER.
Step 3
Select HDMI-CEC, press Enter, and you're done.
Step 4
Additionally, you can connect the HDMI cable to both the HDMI-ARC port on the external speaker and the HDMI port on your TV and switch on both the TV and speaker.
---
Method 4: Connect Using Bluetooth
You may easily establish the connection using the smart Samsung share feature on your TV. This means that if your speaker system supports Bluetooth, this may be the best approach. One significant advantage of this approach is that it is fully wireless.
Step 1
Press the HOME button on the remote control to access the settings menu.
Step 2
Select the sound menu, followed by the option for sound output.
Step 3
You'll see a list of connected devices, including the external speaker with which you want to connect your TV.
Step 4
YOU MUST USE THE PAIR AND CONNECT OPTION TO PAIR THE DEVICES.
Step 5
Select the pair and connect option and wait for the appropriate response from your external speaker.
Step 6
Once pairing is complete, click the OK button.
---
Method 5: Connect Using WiFi
WiFi is a more advanced Wireless connection method. It creates amazing sound and has greater coverage than Bluetooth.
Step 1
Take hold of the sound system's remote control, click on source, and pick WiFi mode.
Step 2
Connect your smart phone to the same WiFi network as your television and download the Samsung SmartThings App. Once the app has been downloaded, open it and click the Add button.
Step 3
Select device after clicking the Add icon. Additional alternatives will become visible. Select AV. Following that, you'll be prompted to choose a brand for your Sound system.
Step 4
To begin, click Start. Following that, choose the location and a room. The mobile device will attempt to locate the audio system. The device will establish a connection after the search is successful.
Step 5
Take your remote control and click on Settings, then scroll to sound and select sound output. Select WiFi. Make a connection.
---