Portability and ease to move are some of the factors people opt for rolling speakers. Carry them to the camping side, pool parties, or just about anywhere without lifting the heavyweight.
Speakers with wheels are road-ready and can be transported like a suitcase. Such speakers are few as most people prefer the teeny tiny models available now.
---
Expert's Advice Before You Buy Your Best Rolling Speaker
Wheels – Rolling speakers are lauded for their ability to move easily. Owing to the wheels and convenient grab handle, they can be transported to different places with no problem whatsoever. Despite the large size, wheels offer easy mobility.
Sound – Besides the rolling wheels, the speaker should stay true to the main objective, delivering loud and clear sound. Check peak power, internal components, and the number of speakers, woofers, and tweeters to analyze the sound produced by the speaker.
Connectivity – It is important for a speaker to connect to both Bluetooth and non-Bluetooth devices. Besides the latest Bluetooth technology, check whether it has common audio input ports to connect to most devices.
Price – Just because these speakers are bigger in size and have wheels does not mean the user has to break the bank to purchase them. It is always better to compare the prices of different rolling speakers and buy the one that has the most features at affordable prices.
---
Details of Each Best Rolling Speaker
Monster Rockin' Roller 270 – Best Rolling Bluetooth Speaker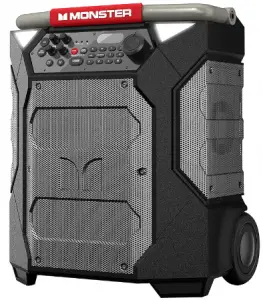 Pros
Get powerful sound from nearly all angles
Supports TWS pairing to boost the sound
Easy controls through the app
IPX4 weather resistance exterior
Cons
Irresponsive technical support
This mighty-looking wireless speaker is fit for many outdoor musical excursions. Encased in a rugged, reinforced shell, the speaker has up to 200 watts of power for amplified, balanced audio. It can be charged wirelessly and lasts many events on a single charge.
Audio – This speaker has a peak power of 200 watts that delivers a balanced 270° sound. Sync and play different devices using Bluetooth and get exceptional audio performance.
Water-Resistant Casing – Light rain and water splashes will not be a hurdle thanks to the tough IPX4 weather-resistant exterior.
Control App – The all-in-one Monster Zone control app lets you control the speaker from the mobile device. Control volume, adjust brightness, change LED Color, connect devices, save settings, and more.
Wireless Charging – It offers 100 hours of playtime and lets you charge wireless devices with an integrated Qi charger.
---
ION Audio Block Rocker Plus – Ion Rolling Speaker
Pros
Long playtime of up to 50 hours
Rolling speaker bluetooth
On-board AM/FM radio with 12 presets
100-watt dynamic power for powerful sound
Sturdy build
Dedicated mic input
Cons
Battery drains quickly when used at max volume
This rolling speaker is Amazon's Choice for Outdoor Speakers by Ion which produces dynamic, powerful sound with defined bass. It is designed to move easily with a built-in handle, wheels, and a rugged enclosure that withstands wear and tear. It is easy to pair with Bluetooth and non-Bluetooth devices and comes with a microphone. The rolling Bluetooth speaker has a long battery life of 50 hours for uninterrupted fun.
Sound – This road-ready cabinet offers pristine, detailed, lifelike sound with an 8-inch woofer and wide-dispersion tweeter. 100-Watt high-powered amplifier and bass boost button lets you enjoy rich, dynamic sound.
Bluetooth – It features easy to pair wireless Bluetooth connectivity to connect Bluetooth-enabled devices. With dedicated Bluetooth track controls, modify settings and volume.
Portable – It is made to move with a rugged plastic enclosure, conveniently placed handles, and wheels.
Connectivity – Besides Bluetooth, it has a USB 2.0 port and Aux input to connect non-Bluetooth devices to the speaker system.
---
SUPNUI 60W (80W Peak) Portable Bluetooth Speaker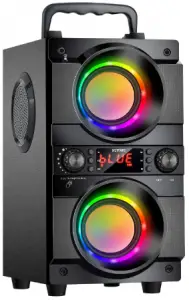 Pros
Cool and colorful flashing LED lights
Multiple speakers, tweeter, and woofers for better audio
Smooth and deep bass
Remote controlled
Cons
Annoying start-up announcement at full volume
This portable speaker is manufactured with four speakers and advanced technology for powerful, loud sound and deep bass. SUPNUI wireless speaker is fit for parties, karaoke nights, and other events requiring a microphone playback system. It is equipped with multiple batteries that provide sufficient power to last many weekend trips.
Sound – The user will not be disappointed with the audio quality due to the 4 loudspeakers including double bass, dual tweeters, dual woofers, and rear heavy bass guide tube. All these components combine to provide a 360° stereo effect.
Bluetooth – The powerful 5.0 Bluetooth chip has a transmission range of approximately 100 feet and also features a 3.5mm audio aux cable for wired connections.
Microphone Playback System – Use a microphone to sing thanks to the best sound effect and music atmosphere provided by the speaker.
Rechargeable Battery – It has four batteries each 2000 mAh battery, totaling 8000 mAh. After charging for 2-4 hours, it lasts for a long time without interruption.
---
Moukey Karaoke Machine Speaker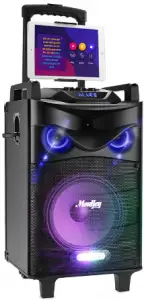 Pros
Beautiful LED lights
Remote controlled
Comes with two VHF Wireless microphones
Bluetooth 5.0 technology
Cons
Fit for small gatherings only
This high-power speaker is compact and ultra-portable with a grab handle and wheels. It is designed for better audio performance and professional karaoke systems. It comes with two microphones, a remote control, and a tablet holder to conveniently set up your sound system.
Sound – 160W dynamic power amplifier combined with a robust 10-inch woofer and wide-dispersion tweeter for producing high-fidelity sound for any occasion.
Battery – Designed with a powerful, safety-certified battery that gives uninterrupted performance for 1 to 3 hours. The playtime changes depending on the volume and other elements.
Multi-Purpose – This multifunctional speaker is fit for speech, dancing, outdoor activities, teaching, karaoke, and more.
Bluetooth – Stream audio seamlessly using wireless connections with Bluetooth-enabled devices. Besides Bluetooth, it also supports a Micro TF card and Flash USB connectivity.
---
EARISE Bluetooth PA Speaker System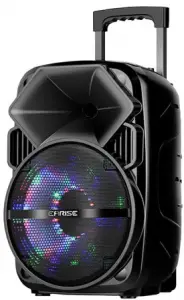 Pros
Bluetooth, USB Flash, AUX input, and 1/4-inch MIC input options
Optimum sound clarity for up to 150 people
3600 mAh Li-ion battery
Flashing lights
EARISE multi-purpose speaker coupled with wireless microphone is the right fit to get the party going. It provides easy mobility with trolly and rolling wheels, carrying it anywhere without lifting it up. The high-capacity, powerful battery provides multiple hours of playtime at full volume. It comes equipped with a microphone, remote controller, 5V USB charging cable, and user guide.
Sound – This quality speaker has a powerful 8-inch subwoofer and a 1-inch tweeter to deliver brilliant, rich, vibrant sound. As compared to its size, it produces a louder sound than expected.
Bluetooth – The advanced Bluetooth technology makes it compatible with all the devices supporting Bluetooth function. Go wireless and take this speaker anywhere conveniently with rolling wheels.
Battery – The 3600 mAh battery will last 4.5 hours when the music is played at max volume, however, it can last 15 hours.
Remote Controlled – The handy remote features all the functions, play/pause, fast forward, fast backward, and change settings just by pushing relevant buttons.
---
Pyle Portable Bluetooth PA Speaker System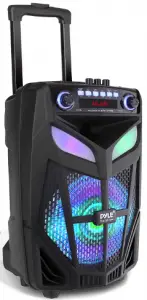 Pros
Multiple connectivity options
High-powered speaker with a 600-watt power
Bluetooth-enabled
The wireless speaker is quite powerful with 600 watts peak power to produce loud stereo sound and impressive bass. The high-powered speaker system is equipped with a remote control, power adapter, two wireless microphones, and aux cable, therefore, the user does not have to buy accessories separately.
Sound – 600-watt peak power combined with 10″ subwoofer, 1-inch tweeter w/ 600-watt
power provides the best audio streaming and reproduction.
Connectivity – It supports Bluetooth connection and four input options such as a USB flash drive, SD card reader, 3.5mm AUX input, and a 6.5mm mic input.
Lights – Flashing party lights set the mood for the party, adding several colors to the space.
Battery – The integrated rechargeable battery with power-saving mode extends the runtime, making it last many hours.
---
Pyle Bluetooth Speaker System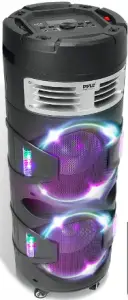 Pros
TWS (True Wireless Stereo) pairing
The versatile and portable speaker system
1200-Watt peak power
Cons
Bluetooth keeps disconnecting
Another speaker with wheels from Pyle! Move it anywhere with ease thanks to the rugged wheels. Besides easy mobility, it offers full-range stereo sound reproduction. Sleek and attractive design complements any space and decor, flashing DJ lights makes the party even more fun.
Sound – It features 8″ subwoofers, 3″ speakers, and 1" tweeter, 1200W peak power/600W RMS at 3 ohms for clear, loud, room-filling sound.
Bluetooth – Pair it with an Android smartphone or iOS device through a Bluetooth connection and enjoy seamless audio streaming.
TWS Function – TWS pairing connects another speaker to the system to double the sound.
Battery – Built-in battery offers multiple hours of playtime for long-term performance.
---
Quick Comparison of the Above Rolling Speakers